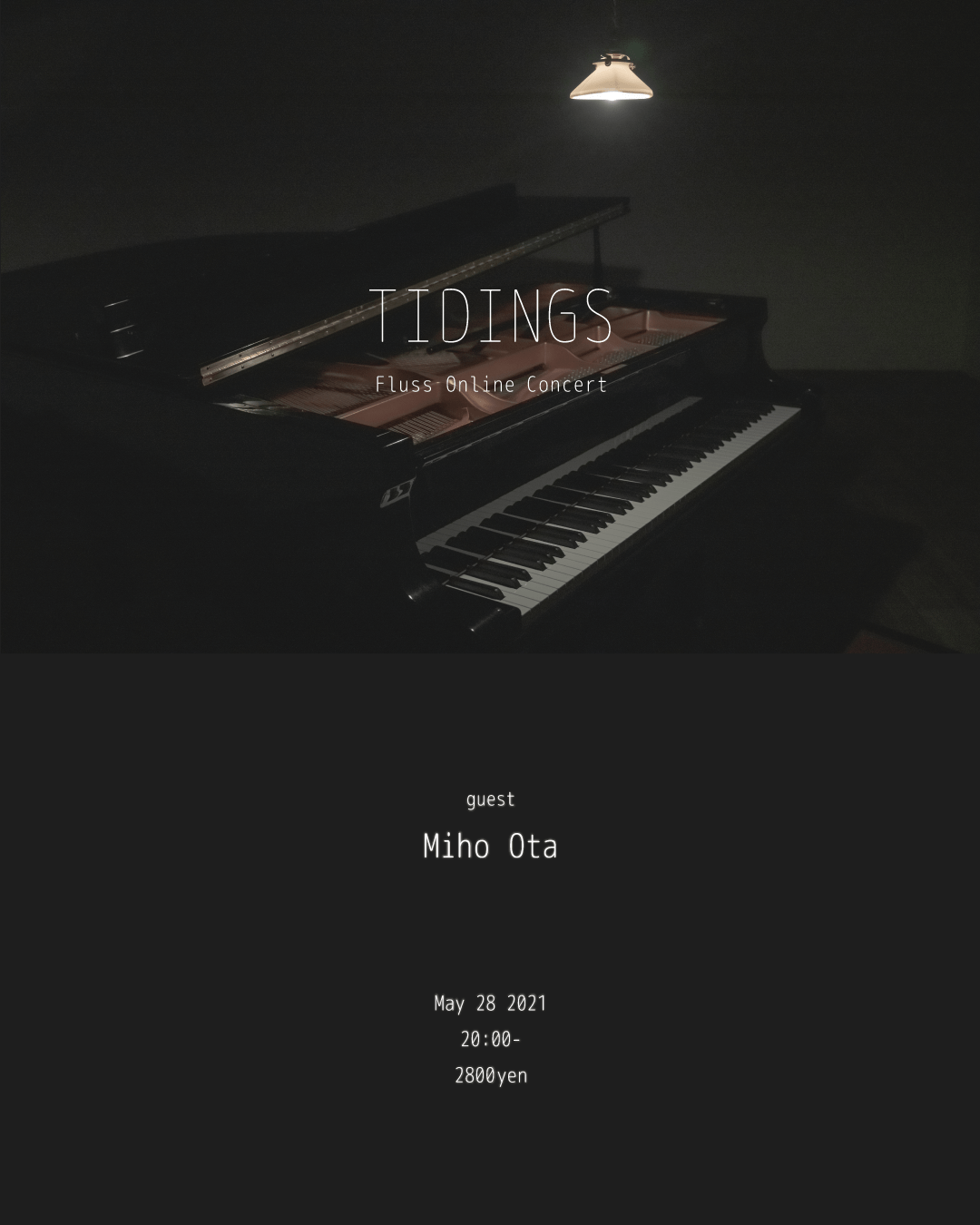 Online Concert
TIDINGS Fluss Online Concert 02
Flussからお届けするオンラインコンサート、TIDINGS。
今回は太田美帆さんをお迎えします。
優しさと力強さが同居し
生命力あふれる歌声に
静かに導かれる夜をお届けします
5月28日(金) 
20時開演
料金:2,800円
出演
太田美帆
*チケットのご購入は6/4 23:59まで
 アーカイブの視聴は6/11 23:59まで可能です
Miho Ota: itto – Vocalist with a light –

太田美帆
おおたみほ/東京都出身
音楽家。1978年東京生まれ。
小学2年生の時、東京少年少女合唱隊へ入隊。
グレゴリオ聖歌を始めとするカトリック教会音楽の旋律に心を奪われる。当時共に在籍していた仲間達と「聖歌隊CANTUS」を結成。
様々なアーティストと「コーラス」を通じてコラボーレーションを重ねる。
Miho Ota Profile
Born in Tokyo, in 1978.
She joined THE LITTLE SINGERS OF TOKYO (LSOT) when she was 7 years old.
She was fascinated by the Catholic Church music including Gregorian chant.
Then she formed a choir "CANTUS" with members of LSOT. The choir has collaborated with a variety of artists through chorus . Recently,she has been active as a solo singer and to hold the workshop of voice. Additionally, she is as a president of a chorus "UTA" that is improvised. She is active center on voice in various ways .
Instagram: @ura.cantus